Our History (page 2)
Dad was born southwest of Eustis, Nebraska, in 1916, on a family farm. He was the youngest of four children. The family attended the German Methodist Church, and Dad received his confirmation diploma in German. Falling on hard times, his family moved to Cozad, Nebraska before Dad was ten years old. Dad's parents spoke German as their first language, but they encouraged their children to speak English. Dad could understand German being spoken, but he spoke English as his first language. Dad loved to work with horses, but found out when moving to Cozad that he also had a keen interest in honeybees. For his tenth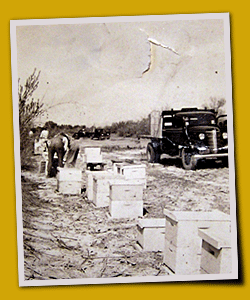 birthday in 1926 his father, bought him two "store bought" hives of bees. He also made bee boxes and frames out of old fruit boxes from the grocery store. When the word was out that a swarm of bees was in the area he would gather his homemade box and frames on his bicycle and would go hive the swarm. In the 1920's several men kept bees in and around Cozad. Jack Henry had 50 hives, Sells had 100 hives behind the ice plant, and Harry Allen had 200 hives one mile west of Cozad on his farm. Dad would ride his bicycle out to Harry Allen's and was somewhat tutored in beekeeping by Harry. Dad's interest in bees motivated him to lie on the ground at the entrance of a hive and count the bees coming and going. Dad's beekeeping peers have said they did not know of anyone that had as much knowledge and just plain understanding of how bees think.

Dad's love for bees continued, and by God's providence in 1936, Miller Honey Company from Colton, California, set up an outfit of bees at Cozad, Nebraska. Earlier Mr. N.E. Miller owner of Miller Honey Company was riding on the Union Pacific train through the Platte Valley of Nebraska and saw the potential for honey production from the clover and alfalfa fields growing along the Platte River.

He sent to Cozad a train carload of new bee boxes and frames to be nailed together. A retired man, George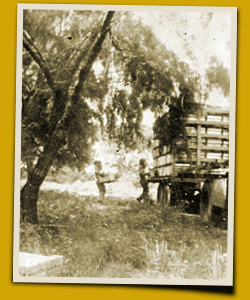 Armstrong, was nailing the boxes together for 4.5 cents per box. Dad started nailing frames together for 1.75 cents per frame. At that time frames were being nailed together one at a time, and a man could make maybe two dollars a day. George made a jig for Dad to hold 10 frames to be nailed together at one time. This same style of jig was used by Dad's children and grandchildren and probably by many other beekeepers. Soon Dad was nailing 1,000 frames together earning $17.50 a day. Dad was blessed with tremendous dexterity and skill to handle a hammer and nails. He tells the story that when he went to California later that year to continue working for Miller Honey Company, that his first day on the job there were several men nailing frames together on a long bench. He set up and nailed more frames than all of the other men combined. He said Mr. Miller checked his work hour after hour and was so pleased the next day Dad was the only one nailing frames. Mr. Miller saw the gift of beekeeping in Dad and used Dad in his California, Idaho and Nebraska operations. Dad was put in a managing position at Colton, California, when Mr. Miller was seriously injured in an accident at his warehouse.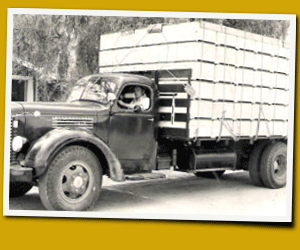 Dad learned about migratory beekeeping from Mr. Miller moving the bees from southern California to Nebraska. In 1941 Dad bought the hives of bees that Miller Honey Company had at Cozad. The Miller Honey Company bee business that was set up at Cozad brought the way of life to Dad, Mama and their family of six. In 1945 Dad changed from migrating to southern California to migrating from Cozad, Nebraska to the Rio Grande Valley of Texas and continued this migration to Texas for 40 consecutive years.

At the age of seventy-two and operating 2,000 hives of bees, Dad quit keeping bees.