Our History (page 3)
For years I have wondered what my last name's origin was. I knew it was of German origin but what about the name itself? According to Google's language translation it is half-waxed or half-grown. So what does that mean. Several years ago one of my nephews through email was in contact with a Halbgewachs person in Germany. This person told us that the name meant half-wax because many years ago the family kept honeybees and paid half of their taxes in beeswax. Very interesting and it could fit the first Google meaning.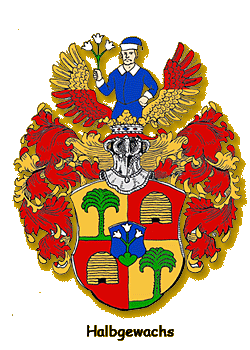 I had the pleasure to travel to Germany last year. While I was there I took the time find my ancestor roots which proved to be very interesting. I knew most of our history in the United States but nothing from Germany. Through a few great discoveries I found my direct family in Germany! And even better one of my German cousins had my Halbgewachs family history back to 1488. Absolutely amazing!!! But it even gets better than that. He had a small book of Halbgewachs family crests or seals. One of the crests is of my great grandfather back 15 generations and guess what there is on the seal? It has bee hives on it!!!! Incredible. I discussed the idea of our name meaning half-wax. They felt it had more to do with half-grown or half-mature. I do not have a definitive answer for my name's meaning but I do have some evidence that it could have to do with beeswax with beehives on the family seal. I love keeping bees and my father loved keeping bees and now we find it has been a family tradition for generations.